Hi Folks! Writing this while sipping my mug of Tetley's (tea, not beer) and still dressed in my PJs and dressing gown.
Dressing gown because, can you believe it, there has been a marked drop in temperatures after the heavy storms that we, here in Cordova province (and the rest of Spain) experienced yesterday. So now 21 °C (69.8 °F) at 8 a.m. feels cool! (Don't worry, next week we'll be up around the 45 °C mark again = 113 °F !)
It really chucked it down! Just a few kilometres to the north of where I live (the countryside of Posadas), in the Sierra Morena Range the hailstones were as big as walnuts, while in the south, in the plains of the Guadalquivir River, the towns and villages suffered a real deluge. One village in particular, Ecija (which is about forty minute's drive south from my house) was a real washout. Here is a short video, you need to click on the link (good practise for your Spanish too!):- https://cadenaser.com/emisora/2020/08/11/radio_sevilla/1597164448_152224.html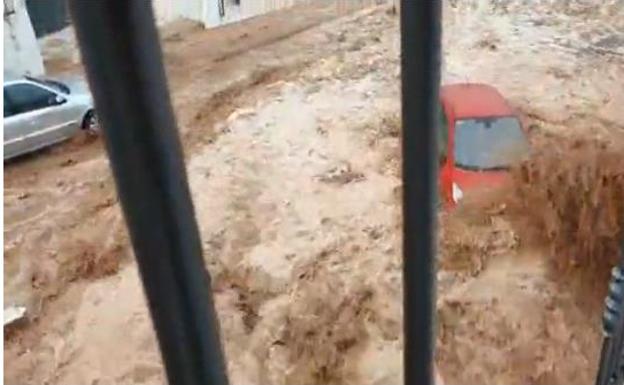 And Ecija, lying at about forty minutes' drive from my house and actually in the province of Seville, is one of the hottest places in the Guadalquivir Valley, so much so that it is known as the 'frying pan of Andalusia'! It is also known for its numerous church towers and steeples.
You can see the following link for some photos and also a brief overview of this historical and pretty town. There are loads of places to visit, ranging from the many churches, convents, manors, museums and archaeological sites. This link also includes an audio / video guide of some of the main places: http://www.turismoecija.com/en/
Anyway, the storm once it passed, also left behind an impressive sky:
(In the above photos, you can see the hilliness of the land around my home and also the castle of Almodóvar del Río in the far distance. See my earlier blog for the history and legends of this castle — https://anenglishladyincordova.home.blog/2020/07/14/the-legend-of-the-enchanted-castle-of-almodovar-del-rio-province-of-cordova-andalusia/ — sorry, as yet I haven't learnt how to put 'HERE' which will direct you straight to the link…)
And apart from the castle, I can also see from my bedroom bay window (where I am now sitting) the manure heap next to my vegetable patch. (What a lovely sight!) This is a very useful view because I can tell first thing in the morning whether there has been any wild boar activity at night (they are nocturnal creatures!). Just two nights ago I spotted him at about three in the morning, snorting and hoofing this manure pile and he was just inches away from the chicken wire that encircles my vegetable garden. I had to shout out loudly in order to scare him away — this also woke up Zeus and Dingo who started barking madly at him (from a distance, so luckily he wasn't able to gatecrash my aubergine, peppers, tomatoes, cucumbers, chard and wilting spinach — the temperatures have been hot!).
Anyway, this morning it was my intention to write a humorous article about some of my first teaching experiences in Cordova (awful), but I think I'd better leave that for another day. For now, I will go for a cold shower (cold because it's cloudy and there hasn't been enough electricity generated by the solar panels to heat the water nor work the hairdryer, though we do have forty-five panels, eight huge batteries and two very noisy converters!). So after my cold shower I will go for a walk to the Sierrezuela Hills (you can read about this if you like in my earlier blogs entitled the Sierrezuela…. https://anenglishladyincordova.home.blog/2020/02/05/the-sierrezuela-posadas-cordoba-spain/), and there I will collect some flat, round stones to paint. (English classes in serious dwindle due to Covid.)
So I shall leave off for now, hoping this finds you all in good health and spirits.
Thank you for visiting me, and as usual, I am always welcome to any comments and questions.
Bye for now!